This is the English translation of State of WikiSuite in 2019 presentation (in French)
The most comprehensive and integrated Free / Libre / Open Source enterprise software suite
WikiSuite: What's new in 2019?
Presentation by Marc Laporte, Founder
WikiSuite: Mission

Mission: Empower organizations to better manage, secure and use their information, to become data-driven, and achieve their optimal performance.
Founded in 2011, WikiSuite is especially suited to knowledge-centric organizations and offers most (80%+) of the data and information management features all organizations need.
Over US$50 million of Free / Libre / Open Source software!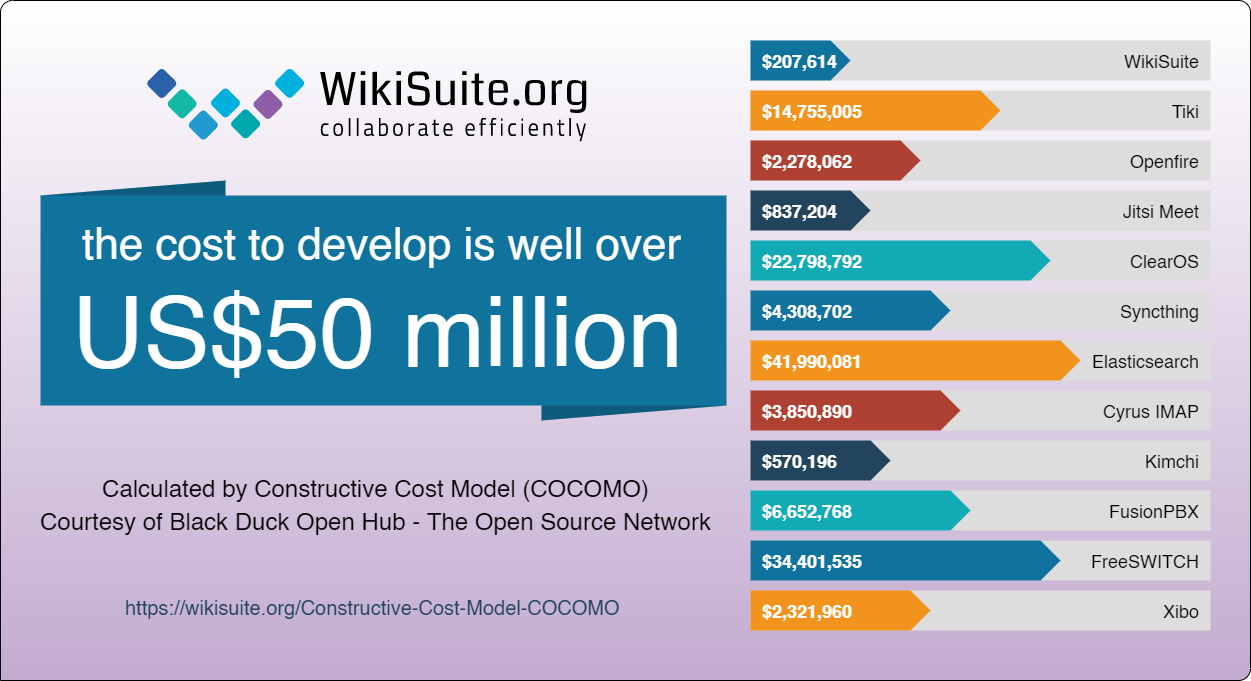 High-level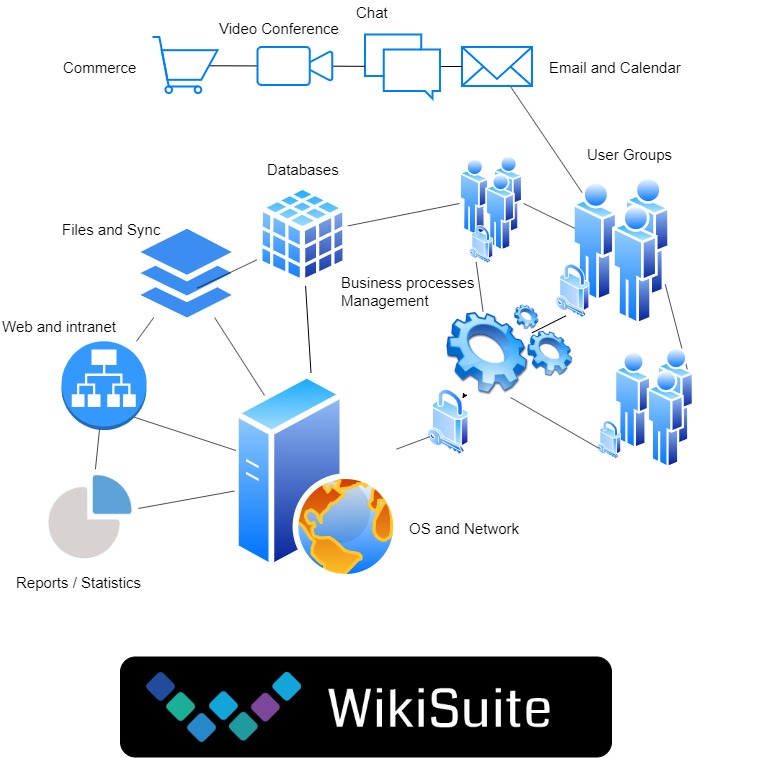 OS and Network
The Underlying Infrastructure
Router / Gateway / Firewall / VPN
Virtualization (Any Client OS)
Unified Index / Search
Server / Network
Desktop / Mobile
Natural Language Processing (NLP)
Federated Search

Email and Calendar
The Universal Communication Tool
Calendar
Newsletter
Webmail
Address Book
IMAP / CardDAV / CalDAV
Notifications of Changes
Anti-Spam
Filters
Chat and Video Conference
Rich Realtime Unified Communications (XMPP + WebRTC + SIP)
PBX Phone System with Voicemail to Email
Realtime Collaborative of Text, Drawing and Scrum Board (Beta)
Presence / Chat (XMPP)
Co-Browsing (Beta)
Video Conference and Recording
Remote Control of Keyboard and Mouse (Alpha)
Screen Sharing
Slideshow
Files and Sync
Always Have the Latest Version and Access to Previous Ones
Backup
Versioning
Master Folders
Files of Any Size
Search within Files
Multi-Device File Sync
Offline Access

Commerce
Sell Memberships, Products or Services
Customer / Membership Management (CRM)
Shopping Cart / Payment
Sales Force Management
Advertising / Social Networks
Event Management
Digital Signage
Accounting (Alpha)
Web and Intranet
Your Public and Private Web Content
Website / CMS / Blog
Wiki / Knowledge Base / Book
Enterprise Social Networking
Customer Support / Issue Tracker
Web Framework / Workflows
E-Learning / Quizzes
Video Management
Forums
Security
Keep your Data Safe from Loss or Disclosure
LDAP User / Group Management
Intrusion Detection / Protection
Password Management
Anti-Virus / Anti-Spam
Firewall / VPN
Registration System
Anti-Phishing
File Encryption

BPM and Analytics
Manage, Measure and Optimize your Business Processes
Database / Forms / Reports
Web Analytics
Reports / Stats
Surveys / Polls
Business Intelligence
Spreadsheet / Charts
Project Management
Alerts
The main components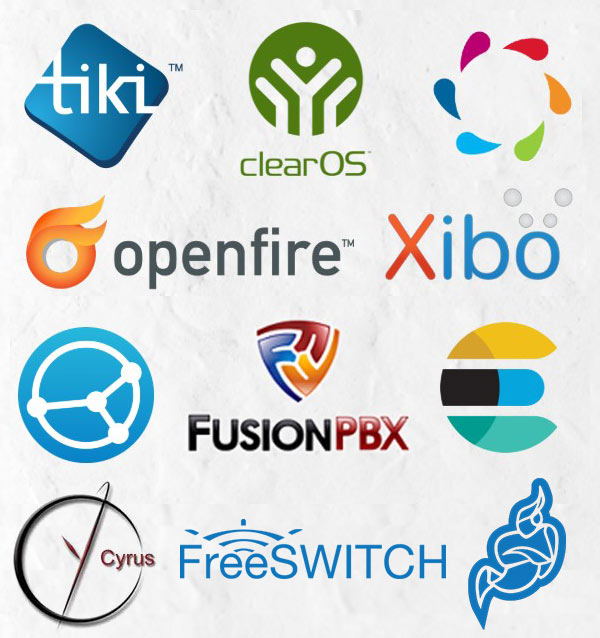 For your particular needs: Tiki Trackers

Database Web App Builder. Free / Libre / Open Source alternative to Microsoft Excel, Microsoft Access and FileMaker Pro. In active development for 15 years!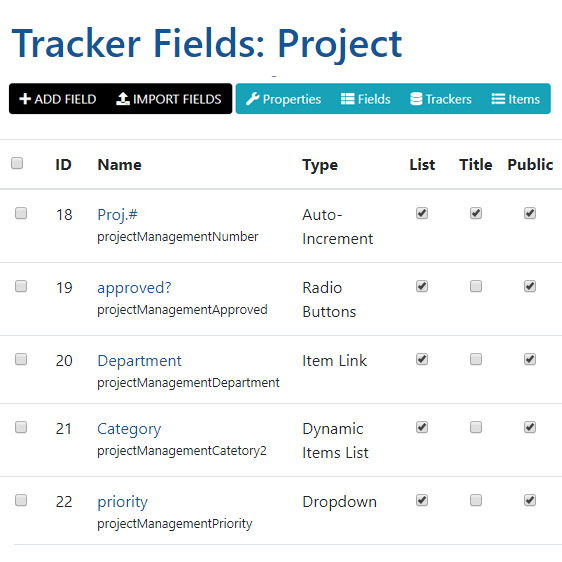 Going beyond collaboration on text
In the last year
Priorities for 2020
A small number of gigantic companies manage an increasing portion of the planet's data: In 2014, Benjamin Mako Hill published research demonstrating that Google (including Gmail/G Suite) had a market share of about 50%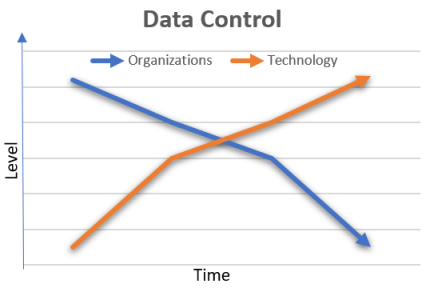 Improve WikiSuite's webmail with JMAP + CardDAV and make it among the best options.
Roadmap for ClearOS 8
Tiki "Templated Groups" for deployments with thousands of groups
BPMN 2.0 with Camunda
Password management for teams.
Questions ?
Colophon: This presentation is done with Tiki Wiki CMS Groupware 20.x, thanks to the integration of