Email and Calendar
Accessible, secure and integrated enterprise-level email solution
WikiSuite includes an Email and Calendar solution. It empowers users by offering an integrated Email / Calendar / Task system within WikiSuite which helps organizations work better with email. The web-based system is compatible with any platform and operating system using desktop computers or mobile devices.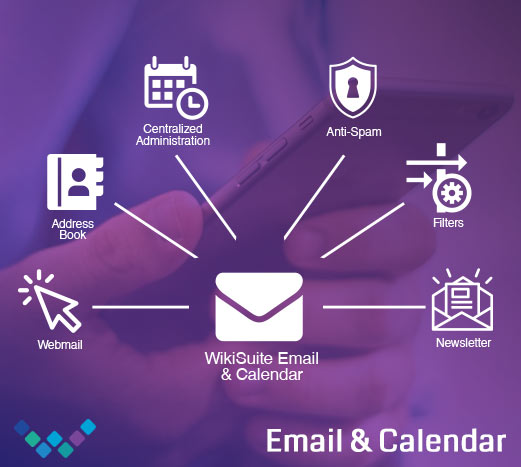 WikiSuite makes email work for your organization
The integrated email solution in WikiSuite enables organizations to achieve more with their email. The easy to manage email administration panel gives you complete control and security over email communications. It is equipped to overcome the challenges faced by email systems today such as security concerns, spam and integration with the organization's information system.
Features
Webmail
Supports IMAP and JMAP
Attachments saved in file cloud
Searching and tagging emails
Supports third-party apps (mobile)
Connect with any web browser
Connect with any mobile device

Address Book
Any number of address books
Organize contacts hierarchically
Support contact details and notes
Share contacts (access control)
Multiple groups feature
Groups usable as mailing lists
Import and export of full books
Support CardDAV
Calendar
Support multiple calendars
Single streamlined agenda view
Color coding for each calendar
Share calendars with other users
Event scheduling
Searching and tagging calendars
Support CalDAV

Anti-Spam
Powered with SpamAssassin
Shared spam folder
Ham (non-spam) folder
Quarantine system
Filters
Set custom criterias for filters
Automated filters to classify
Conversations threads view

Newsletter
Create multiple contact groups
Mailing list management
Drag & drop capabilities
Sending to groups or contacts