Digital signage is a form of electronic display that shows information, advertising and other messages. Digital signs (such as LCD, LED, and plasma displays, and projected images) can be found in public and private environments such as retail stores and corporate buildings. Nowadays digital signage plays a vital role in our industry as it is replacing traditional printed catalogs, menus and product listings in restaurants, shopping centers, and other community places.
Most of the time people use a USB flash drive to feed individual screens, to display the desired media and, whenever they have to update the media, they manually update the contents of the USB flash drive and plug it back in. This can be very inconvenient when managing a large number of displays and especially when you have to manage displays at multiple locations. That's where XIBO can help manage all of your digital displays with a centralized media management system equipped with scheduling and other features. With XIBO you can keep all your digital displays up to date automatically.
What is XIBO?
Xibo is a powerful open source digital signage platform with a web-based content management system and Windows, Android and webOS signage player applications. Xibo helps you to create your dynamic content for digital signage.
Xibo enables the user to upload media and arrange it in a layout which is then scheduled for one or more authorized displays.

The interface of this powerful software is very simple and user-friendly and based on five core points:
User Control
Display Management
Layouts (Screen Sizes)
Media Management
Scheduling Media

This image shows how XIBO works: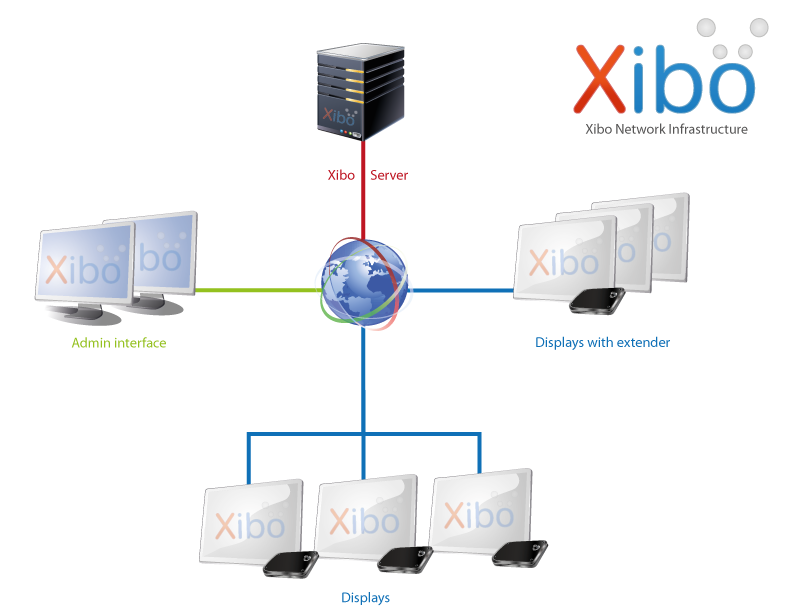 Xibo Introductory Video
What are the benefits of using XIBO?
Open source (FREE)
User friendly interface web interface
Easy to make media layouts
Create and change your content and it displays dynamically
Schedule upcoming content
Control and design your content from anywhere using a web browser through a CMS
Where to get XIBO?