Chat and Video Conference
No additional software required - connect from anywhere!
WikiSuite™ chat and video conferencing enable you to connect with employees, colleagues or clients from anywhere, using your existing desktop PC, tablet or mobile devices. Optimise your team work and interactions with online video meetings, text support and more. WikiSuite Chat & Video Conferencing includes basic voice messages to group audio and video conferencing system enhanced with collaborative meeting tools such as live screen share, auto-switch on voice detection, file exchange, session recording and archiving.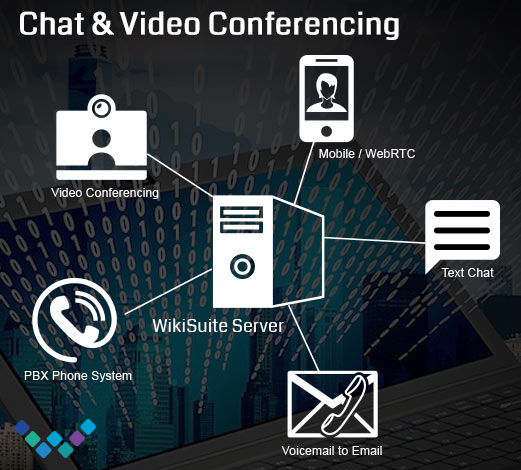 Unify your teams, connect them with WikiSuite
Effective and timely communications plays an important role in the success of any organization. WikiSuite™ provides you most advanced tools to connect with your team members in real time with audio/video/text support. You need to look no further for a secure & private multimedia communication platform for your organization.
Benefit from far more features for free than highly priced commercial softwares
You can work from your standard web browser. Add participants to a virtual meeting and an event will be created in the calendar and invitations will be emailed containing the meeting URL. Starting a virtual meeting is as easy as clicking a button and participants can connect instantly from almost any Internet-connected device. Attendees can share slides and documents to work collaboratively, share screens, and much more during the online and interactive meetings.
Features
PBX Phone System
Basic IP/PBX features
Automated Attendant
Call recording
Live Migration of calls
Outbound Calling
Transfers
Rating & Routing Server
IVR & Announcement Server
Conference Server
Fax server
Video Conference and Recording
Web-based clients
User authentication directly from web browser
Audio and Video conferencing
Telephone (SIP) conferencing
Online Meeting/Conference hosting and planning
Meeting recordings
Playback meeting recordings
Audio / Video recording files for each participant

Realtime Collaborative of Text, Drawing and Scrum Board (Beta)


Screen Sharing
Presence / Chat (XMPP)
Multi user chat rooms
Private Chat (one to one)
Chat logs / history

Remote Control of Keyboard and Mouse (Beta)
Slideshow
Co-Browsing (Beta)
---