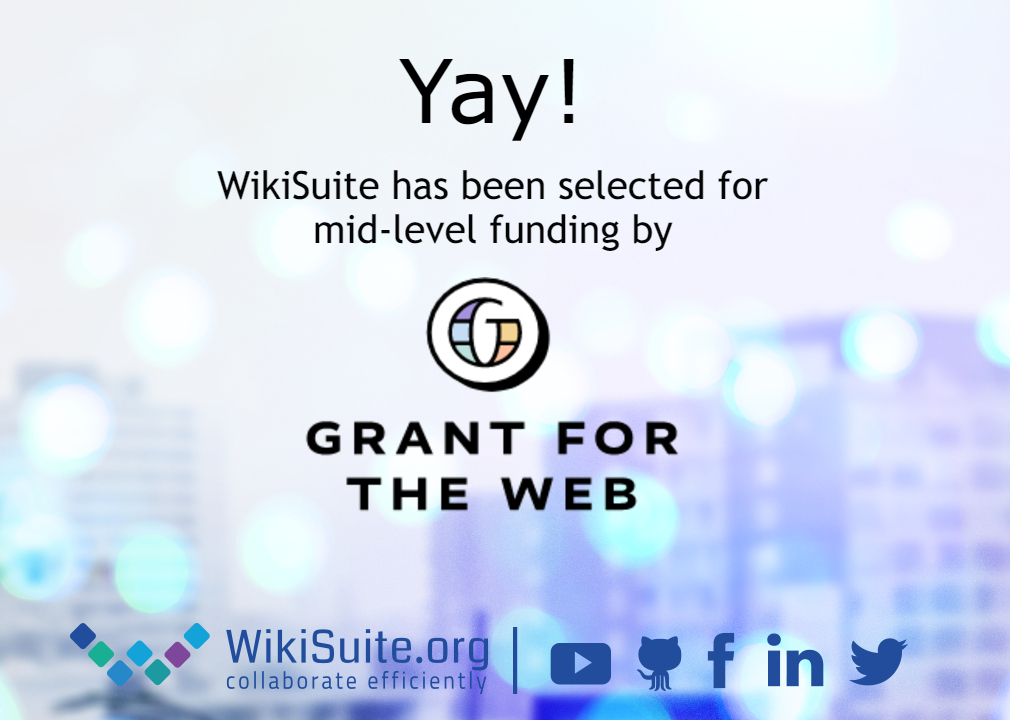 In April 2020, Grant for the Web announced a public call for web monetization project proposals eligible for one of three levels of funding: Spark, Mid-Level, and Flagship. In less than two months, applications were received from 286 applicants. The applications were analyzed and evaluated by an independent and diverse panel of judges.
We at WikiSuite are delighted to have received a Mid-Level grant for the submission "Tiki ILP Integration & Monetization" as it will accelerate our integration of ILP and Coil web monetization features into the Tiki Wiki CMS Groupware component of WikiSuite.
ILP — Interledger protocol — is an Open Source technology for connecting all types of ledgers, from e-wallets to blockchains. The purpose is to smoothly execute financial transactions with anyone, regardless of the location or currency or transaction amount. Interledger, or as one may call it, "The new Internet of Money," allows you to receive money from any ledger, without setting up accounts in multiple systems.
Coil — a new approach to web monetization that we are also implementing in Tiki — replaces paid advertisements with the ability to "experience web monetized content in your browser while supporting sites you love in real time." This is a perfect solution for every company or organization that may have had issues with being treated equitably in a marketplace stifled by corporate domination. And with Coil, web content can be monetized without having to display advertisements from other companies on our websites, mobile apps or videos.
WikiSuite, "the most comprehensive and integrated Free / Libre / Open Source enterprise software suite," is especially suited to knowledge-centric organizations and offers most of the data and information management features all organizations need. This mid-level grant will facilitate the integration of Interledger and Coil with WikiSuite components, thus enhancing WikiSuite's capabilities for website monetization and sending/receiving payments via Interledger. As Open Source software, this enhanced multi-component suite will of course be available to the general public at no cost. And organizations using WikiSuite for their Information Management Systems will be able to deploy this new monetization and payments functionality.
We are overjoyed to be among the pioneers of these Open Source monetization technologies alongside outstanding established organizations, and very pleased to be granted this opportunity.
https://www.grantfortheweb.org/blog/2020-mid-grantees
Stay tuned for more updates from us!